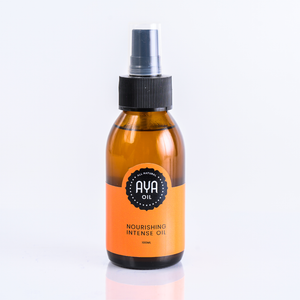 About
AYA Nourishing Intense Oil is formulated on a base of avocado and grape-seed oil infused with raw, fermented papaya and blended with a combination of rich nourishing natural oils selected to soothe and pacify the skin. Perfected to give your skin the moisturising glow of radiance. Is richer in avocado oil ensuring that if our skin needs a little bit more our oil will provide.
Suggested Use
AYA Nourishing Intense Oil is suitable for a drier skin and a drier climate. Deeply nourishing and moisturising adding that extra loving for the skins need. Best after a bath or shower when the skin is slightly damp so our oil can deeply nourish and moisturise.
Ingredients
Avocado Oil, Grapeseed Oil, Apricot Kernel Oil, Marula Oil, Jojoba Oil, Rosehip Oil, Carrot Seed Oil, Baobab Oil, Raw Fermented Papaya, Helichrysum italicum, Salvia stenophylla.
Shipping
Shipping takes place on Tuesdays and Fridays here at the AYA HO. Once your order has been despatched we send out an email with the tracking details.
Inside South Africa:
Orders above R450.00 qualify for free shipping. Orders take within 24-48 hours once you've received your tracking details. Please let us know if you don't receive within that time.
Outside South Africa:
Each country has its own customs and import duties and these are the purchaser's responsibility.