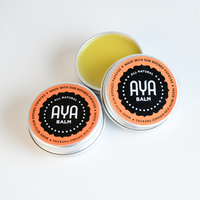 The summer of 2011 saw the origins of a sun-kissed, papaya-inspired love affair.
Carica Papaya combined with l'amour and a good ol' dose of magic resulted in the birth of our beloved signature product, AYA Balm. A 100% natural multi-purpose salve, infused with papaya extract. Our AYA family has grown substantially since those early days, with the subsequent release of our Naturally Nourishing Oils and Cream.
Throughout the years we have remained ever faithful to the ethos that led to the conception of our original lovechild, AYA Balm. That is, to provide your skin with the best that Mother Nature has to offer, whilst maintaining our commitment to sourcing sustainable indigenous ingredients.
AYA…From Papaya with Love
xxx
LEARN MORE
Testimonials
Aya Balm did wonders to a recent burn I got. After smothering it with Aya balm, there was no blistering and the pain subsided quickly.

Anna Joy Savage
I love AYA Balm! It's an all purpose balm for bruises, pimples, insect bites and scratches... it never disappoints!

Charlenie Govender
There is nothing better than this magic balm! I also happen to be covered in bites, guess what I'll be using before bed...

Kendyll Jacobson