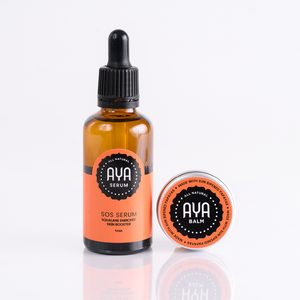 About
AYA Balm is filled with raw, sun-ripened papaya, beeswax, olive oil and sweet almond oil form the base of AYA Balm. The combination of these rich raw ingredients with the papaya produces a calming salve that can be used effectively for a variety of common skin conditions.
Squalane Optimal Support Serum base is made up of Squalane and blended with raw fermented Papaya infused indigenous oils. Reach for our SOS serum whenever your skin is in need of TLC - the highly emollient blend will rejuvenate, repair and restore your skin. Suitable for all skin types.
Suggested Use

AYA Balm is perfect for any skin irritation to help soothe and calm down the skin. Apply topically onto rashes, burns, mosquito bites, dry and irritated skin. Keep our little pot of gold on you at all times and use whenever your skin needs it.
AYA SOS Serum can be used morning and night, as your skin needs it. Directly after cleansing, perfect for any skin type.
Ingredients
Olive Oil, Sweet Almond Oil, Beeswax, Raw Fermented Papaya, Lavender, Eucalyptus and TeaTree Essential oil blend.
Squalane, Citrullus lanatus (Kalahari Melon Oil), Schinziophyton rautaneni (Manketti Oil), Passiflora edulis (Maracuja Oil), Marula Oil, Raw Fermented Papaya.
Shipping
Shipping takes place on Tuesdays and Fridays here at the AYA HO. Once your order has been despatched we send out an email with the tracking details.
Inside South Africa:
Orders above R450.00 qualify for free shipping. Orders take within 24-48 hours once you've received your tracking details. Please let us know if you don't receive within that time.
Outside South Africa:
Each country has its own customs and import duties and these are the purchaser's responsibility.