AYA Balm, our first and most loved product is an 'anything for everything' multipurpose balm. 
Discover the difference in our AYA BALM, a 100% natural, raw fermented papaya-infused balm that is created with you in mind. We believe holistic skin repair comes from the heart. And out of our skin.
READ MORE
Hand-Crafted Skincare as Close to Nature as You Can Get.
Committed to our environment, we select sustainably-sourced ingredients with the nourishment your skin needs to thrive, embodying nature in everything we create. 
SHOP NOW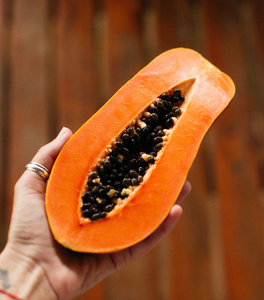 Bringing Out the Natural Beauty in Everyone's Skin.
Our skin deserves to shine just as we do. For over a decade, we've crafted earth-friendly products created to rejuvenate and restore your skin. AYA Natural skin strives to bring new life to your skin with ingredients you can trust.
SHOP NOW
Nourishing Your Skin with the Power of Papaya
AYA Natural Skin is formulated and manufactured in our laboratory, where we ensure that everything from sourcing to testing is carried out with care and compassion. 
AYA…From Papaya with Love
xxx